Half-day cycling trips
Experience the intact nature where time seems to be at a standstill.
We are a part of nature. It fascinates with it's tranquility and freshness. Anyone can find its own paradise there as daily concerns seem to fade away to nothing. Soca Valley has some amazing half - day cycling options:
POLOG – THE TOLMINKA RIVER SPRING (5 h)
The route leads you along the asphalted road to the church of St Peter, which is located just above the village of Zatolmin. It continues on the gently sloping unsurfaced road through a picturesque forest growing on steep slopes above the Tolminka riverbed, past the springs of healing waters and the church St Spirit in Javorca, up to the mountain pasture Polog. We continue on foot to the spring of the Tolminka River. The final point on the agenda is to see 1st w.war remains and natural monuments of the area.
THE KOZJAK WATERFALL (4-5 h)
The route starts in Tolmin and goes along the left bank of the emerald Soča River. All the way, the beauty of the surrounding nature, the river and the hills, arouses a feeling of wholesomeness. On the way we stop at the stream where local farmers heading to the fields have been quenching their thirst for decades. At the Napoleon bridge we turn towards the Kozjak Waterfall, one of the most beautifull in the area. After that we cross the Soča River along a narrow hanging bridge, and return to Tolmin along dynamic route.
THE KOSMAČ ROUTE (4-5 h)
Cycling is on the rout to the village of Modrej across Polance. At the train station we cross the Idrijca River and continue on the left bank in the company of the beautiful river all the way to the Kosmač homestead. From there we continue on foot on a trail across the pass Prvejk. We descend to the lovely Trebušca River and return to Most na Soči on the main road. Finally, we stroll round the lake and return to Tolmin.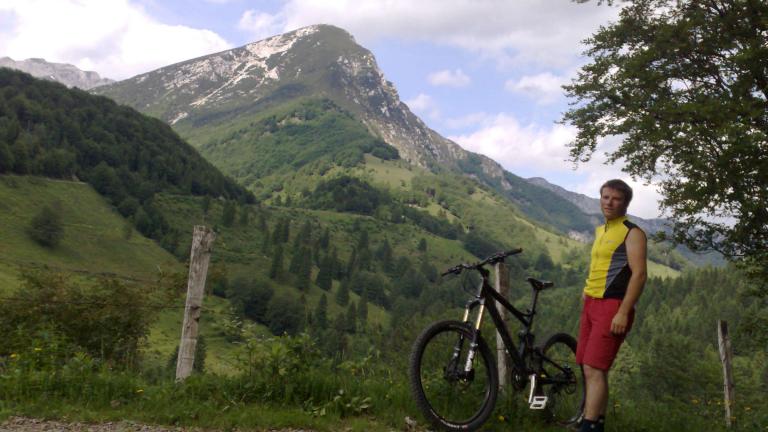 What to expect
adrenaline

fun & joy

hiking

interesting sights

nature

trip
What you need
Sport shoes, sport clothes, swimsuit and a towel
What is included
Bike rental, guidance
Price
65 € per person (min. 4 prs)